The Italian origin stamps the face of José Luiz Gandini, making his ancestry and entrepreneurial vocation clear. Born in the interior of São Paulo, in the well-known city of Itu, he inherited from his father, José Carlos Martini Gandini, the talent that strengthened him in the national automobile sector, and from his mother, Maria de Lourdes Milanez Gandini, the charisma of a good salesman. In 2021, the Gandini Group completed 70 years of successful performance in the market in diversified sectors. Formed by a group of companies managed independently by the brothers José Luiz, Eduardo and Fábio, the group brings together ventures in the automobile, real estate, technological, agricultural, hotel and insurance sectors. The success story of this family, originally from Italy and established in Itu/SP, at the beginning of the 20th century, began with the sale of cars, in 1949, when José Carlos Martini Gandini, aged 16, started to work as manager of the of Studebaker Services, located in Praça Duque de Caxias. Over the years, the company grew, and the family joined its talent to the automotive sector until Kia Brasil was founded in 1992, marked with the importation and commercialization of the Besta and Ceres models until the change in Kia Corporation's portfolio. Today the company
is synonymous with quality, a reference in premium automobiles in Brazil. Over time, José Luiz Gandini gained recognition on the national scene and became an industry leader. Entrepreneur with a firm position, he was president of Abeifa (Brazilian Association of Importers and Manufacturers of Motor Vehicles) for 5 terms and left a legacy of achievements and defense to the market. A man who learned not only to conquer his space in the business world, but to cultivate good times with family and friends, says he loves good gastronomy, combined with tourist itineraries. He
discovered in the nautical sector a pleasant hobby, which he cultivates in his leisure time. Married to
Leila Schuster, Gandini is the father of Gustavo, 26, and Maria Laura, 22. Focused on business, he inherited his
commercial streak from his father and did not disappoint. He handled the management of the business and the succession of the family with mastery. Kia Brasil follows international standards and is constantly innovating, a source of pride for this entrepreneur, who in the exclusive interview portrays a perspective for 2022. Check it out!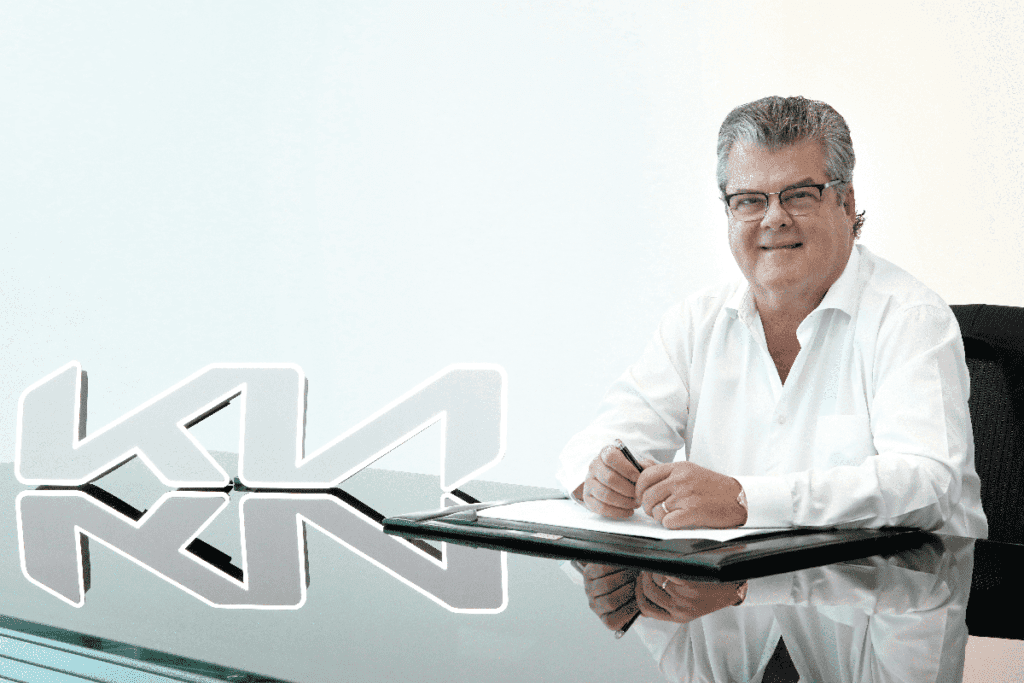 The Winners – Currently, you are known throughout the country as the great entrepreneur and the face of Kia on Brazilian soil. But how did this journey begin?
José Luiz Gandini – A start full of challenges, because the Brazilian consumer did not know the Kia brand, although our neighbors – Uruguay, Paraguay and Chile – already had an interesting history about South Korean brands. It is relevant to recall that the Brazilian domestic market was closed for many decades until the opening of the country by Fernando Collor de Mello. Challenges, on the one hand, but on the other, full of opportunities, because Brazil opened its ports. There were many products that the Brazilian consumer was eager to discover. It was for this reason that Kia Brasil strongly endorsed the Besta model, which, by the way, became synonymous with van.
TW – The imported car market in Brazil is an example of acting in niches, with models that attract not because of their price, but because of their technology, comfort and sophistication, aimed at consumers looking for something new. In this concept, how was the evolution of the brand in Brazil and how to adapt to market changes, for example, electric cars?
JLG – Excellent question, which gives me the opportunity to show the Kia Brasil experience. As I said, at first it was just the Beast and Ceres, work vehicles. With the arrival of German designer Peter Schreyer (ex-Audi and creator of the Audi TT) at Kia Corporation in the early 2000s, the brand's history took a spectacular turn. One reality is to have a dealership network that sells and manages the after-sales service of work vehicles; the other is to sell and manage premium vehicles. Kia Brasil, which had 182 dealerships across the country in the 2010s, had to make a shift towards positioning premium products. Now, we are about to take another important step with hybrid and electric vehicles, but mainly with the new global concepts of mobility.
TW – According to the Brazilian Association of Importers and Manufacturers of Motor Vehicles (Abeifa), sales of imported cars in Brazil fell by 7.4% compared to the previous year. There were 25,421 units against 27,439 imported license plates in 2020. National production, in the same period, accumulates 47,755 licensed units against 31,046 units in 2020, an increase of 50.9%. How do you see this scenario and what needs to be done for new market gains?
JLG – With the import tax of 35% and the parity of the main currency of international commercial transactions, the dollar, we will not have a chance to return to the great volumes of the past. In 2011, we sold 80 thousand units. Today this reality does not exist. We will have to bring differentiated cars from the competition in design, technology, engine, something very different from the competitors.
TW – In a scenario as controversial as 2020 and 2021, how did the company approach customers in a time of adversity like the one faced? What were the overcomings and lessons learned? What innovations served as a lesson?
JLG – We follow all health safety protocols imposed by the Covid-19 pandemic and, now, by the Ômicron variant. We learned to work online, to offer more services to customers, in order to exceed all their expectations.
TW – The automotive sector in Brazil had significant losses in 2021, from the departure of Ford in the country to the global supply crisis and the consequent closure of factories. How do you evaluate this scenario and its possibility of recovery?
JLG – As an importer, Kia Brasil is impacted by the Korean Kia Corporation's own production conditions. The recovery will come when the Korean Kia manages to normalize its production. In addition, we have to stick to the flow of maritime transport. Today, the prices of containers have almost quintupled and the deadlines of the maritime routes are amplified due to the volumes of commercial transactions between Brazil and the rest of the world.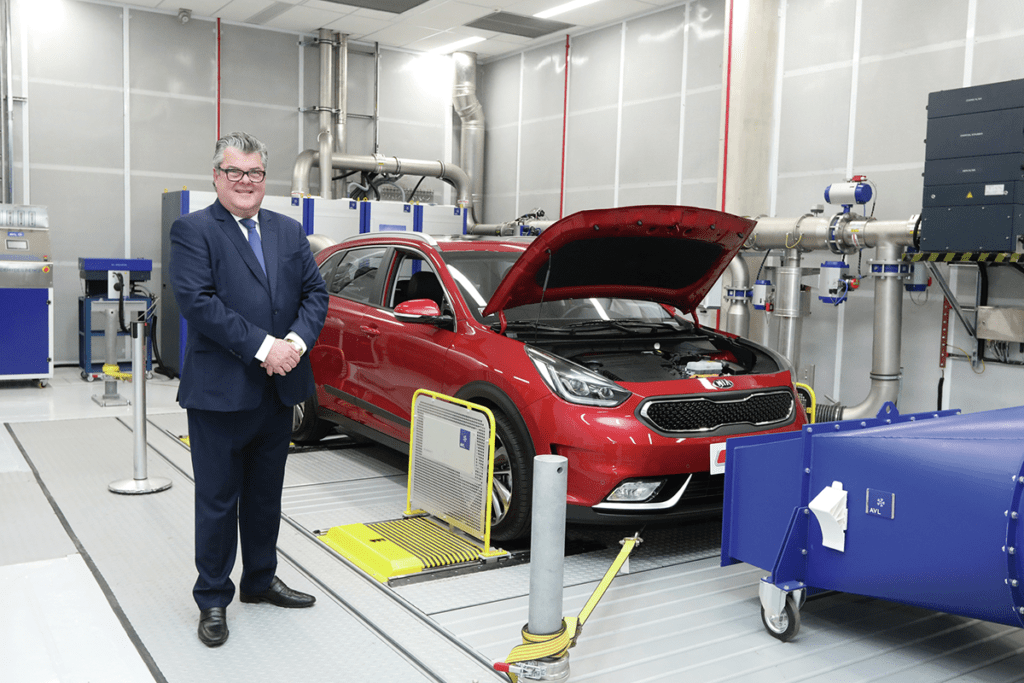 TW – With ESG (Environmental, Social and Governance, that is, corporate practices with environmental, social and governance responsibility) on the agenda, how does the subject change the automotive industry? What are the main changes?
JLG – When it comes to product portfolio, Kia Corporation is committed to leading the transition to clean mobility with the introduction of new electrified vehicles. In Brazil, we recently launched our first hybrid SUV, the Kia Stonic, which opens this new phase of our portfolio. And on social and corporate governance issues, both Kia Corporation and Kia Brasil faithfully follow the precepts demanded by Brazilian society.
TW – You were president of Abeifa for 5 terms (1998-2000 / 2006-2008 / 2010-2012 / 2016- 2018 and 2018-2020) and in all of them you stood out for your firm position in defending the sector against the Government and to tax issues. What are the biggest contributions that you believe you have left in your administration as a whole?
JLG – Any business activities demand a consistent relationship with the Federal Government and, above all, with society, which represents the final consumer. Well, I understand that I was able to leave a legacy in that sense. Our administration managed to establish mature links with government representatives, built positive ties with other entities in the Brazilian automotive chain and, finally, acted with great transparency with society.
TW – Speaking a little of your personal side, when traveling do you usually combine your passion for cars with tourist destinations? Can you find good destinations to go by car? What would they be?
JLG – Cars, motorcycles, boats, planes… are essential means for human beings to make and tell stories, they are essential for anyone. All destinations are valid, but in Brazil, I couldn't forget a tour of Serra do Rio do Rastro and a visit to the Iguaçu Waterfalls. Abroad, I don't forget a safari made in Africa.
TW – Today Kia Brasil is a consolidated company, but is it still a family company? How are the issues of "family succession" and "management" dealt with? What advice do you have?
JLG – This question comes from my father, José Carlos Martini Gandini. The construction of family succession has always been very solid. I started at 13 years old. At this moment, we are already preparing another succession process. I am preparing my son, Gustavo Gandini, for this. He finished college, lived in San Diego and Berkeley, USA, studied at UC Berkeley and has already assumed the position of Director of Operations at the company. My wife's son, my stepson,
Klaus Freitas, is also being groomed. He studied Business in San Diego, USA, and is currently being trained at our original parts distribution company.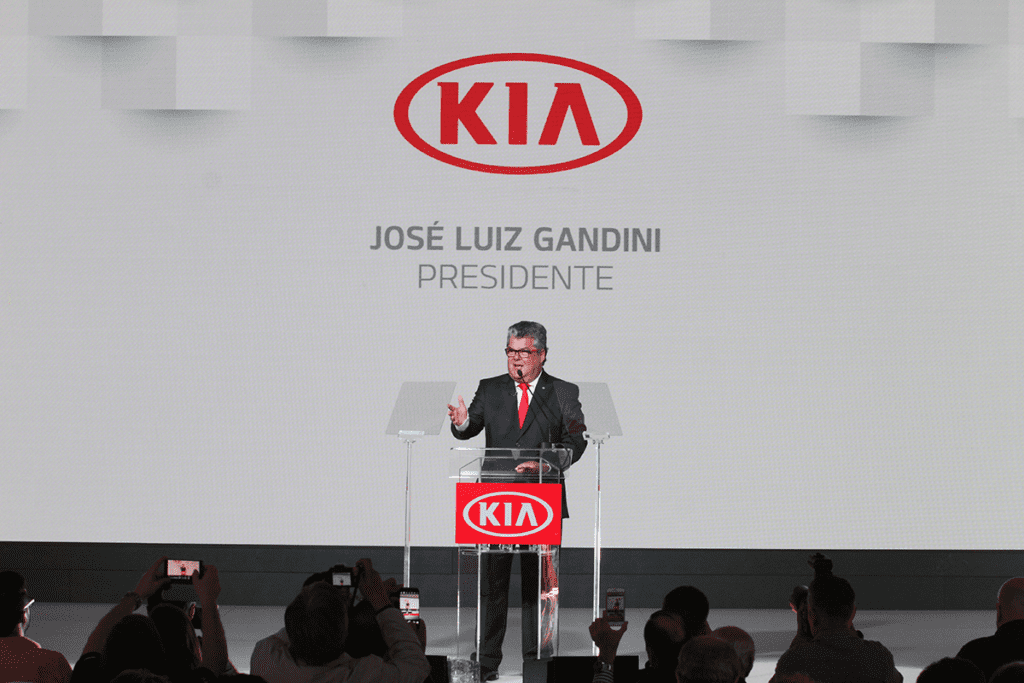 TW – Currently, Kia occupies the second position in this market, with 22.3%. There has already been an intention in the past to install a factory in Brazil. What are the company's plans for market expansion? What can we expect from the brand for the next few years?
JLG – In 1996, we even announced our intention to set up a factory in Brazil. For reasons beyond our control, it was not possible. Soon after, a Kia Corporation unit was installed in Mexico. We lost the investment to Mexico when it was right for Brazil. Now, we are back to pressuring Kia Corporation for an operation in Brazil, but the market conditions make this decision difficult for the Koreans.