Whisky consumers are refining their palates and trying to get to know the category better. Instead of simply purchasing brands, they want to know about production techniques and the original flavors. This creates an opportunity for consumers of Blended Whisky, Bourbon, brandies, and fortified wines to learn about all the diversity that the universe of Single Malts can provide. The authenticity and originality of The Dalmore Single Malt is perfect for those who want to know this world. This precious spirit is matured in exceptional barrels from the best and exclusive wineries in the world.
Located in the Northern Highlands of Scotland, about 30 miles from the city of Inverness, the distillery produces a single malt with a wine profile, rich, complex and with multilayers of flavor, a true Highland style. Founded in 1839, the distillery was acquired by the Mackenzie clan in 1867 for £ 14,500 (a considerable sum of money at that time). The legend states that in 1263, Colin of Kintail, leader of the Mackenzie clan, saved King Alexander III from the fury of a stag while the king was hunting. In recognition of this noble act the king granted the Mackenzie Clan the right to use the royal crest (a head of a 12-point royal stag with the inscription "Help the King", in Gaelic "cuidich'n righ"). In 2008, to honor the event, Richard Paterson (The Nose-his nose is insured by Lloyds Bank for over a million pounds), pioneer of barrel curation, created a very special single malt named King Alexander III.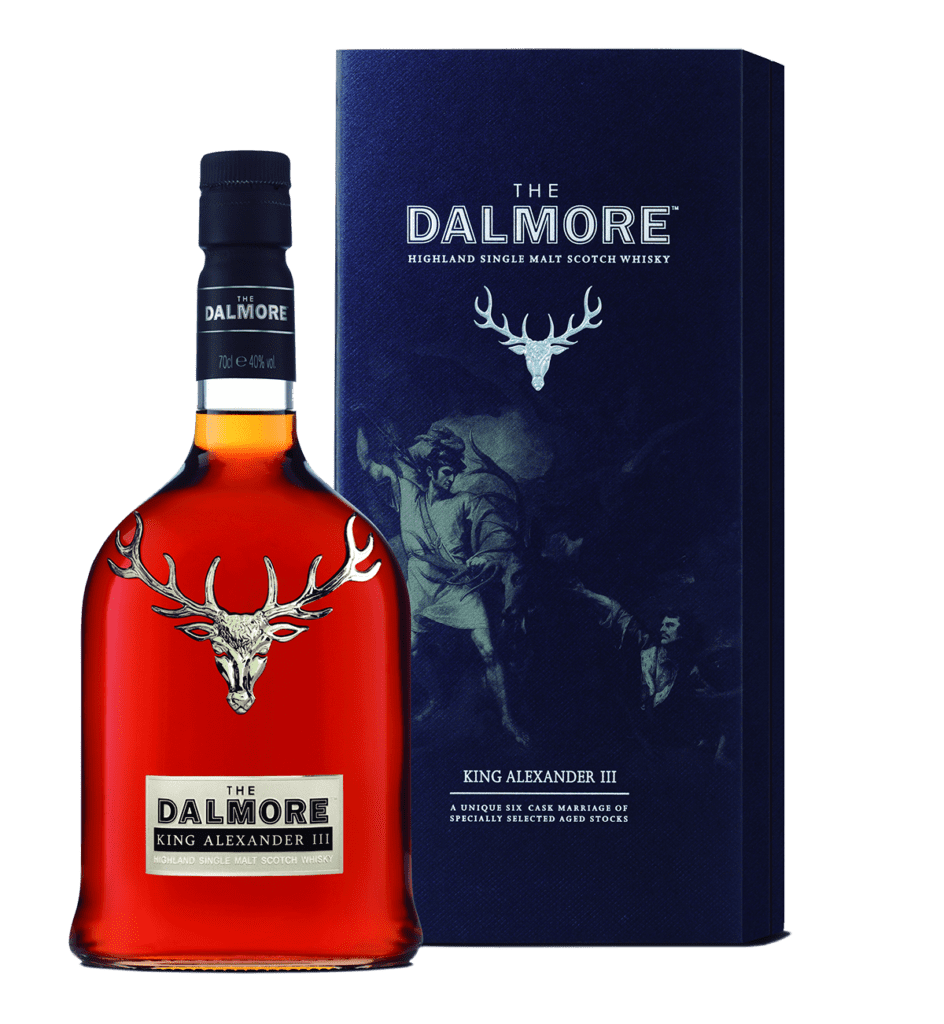 This malt is a true nectar that ages in 6 different types of casks previously used to mature Bourbon whiskey, Jerez Oloroso Matusalem wine, Port wine, Madeira wine, Marsala wine and French Cabernet Sauvignon wine. Another creation by Paterson was the Dalmore Cigar Malt, the perfect paring for the finest cigars. Although it is not commonly used with meals, but rather as an aperitif (usually with nuts and dried fruits) we can challenge our palate and reach new heights by accompanying Japanese cuisine or dishes with more intense flavors such sweet and sour sauces or spice foods.