A pleasant, consistent and revealing conversation. Thus, Stéphane Larue, Consul General of Canada in São Paulo, received The Winners magazine to talk about the relations between Brazil and Canada considering the most diverse aspects. Regarding trade partnerships, Larue told us that Brazil is Canada's third largest trading partner in the Americas, second only to the United States and Mexico.
The figures for this bilateral trade represented the sum of US$ 7.7 billion in 2018, an increase of 19.6% compared to 2017. Another very important data: the number of Brazilian tourists who visited the country.
Last year, 200,000 Brazilians visited Canada, which represents a 30% growth compared to 2017 and an increase of over 70% compared to 2016. One detail: most visitors are students. In addition to these guidelines, environmental, cultural issues and future perspectives were also commented. In Larue's words: "I am extremely proud of what we have achieved with our Brazilian partners over the years. I am very optimistic and also excited about the opportunities that the future will bring".
Felix Ventura – How do you see the economic relationship between Brazil and Canada? Highlight each other's points of interest.
Stéphane Larue – The economic relationship between Brazil and Canada is dynamic and growing. Brazil is Canada's third-largest trading partner in the Americas after the United States and Mexico. In 2018, bilateral trade reached Cd$ 7.7 billion (approximately R$ 22.2 billion), which is an increase of 19.6% from 2017 and 37.5% from 2014. In addition, Brazil is the 11th largest investor in Canada, with Cd$ 14.6 billion (approximately R$ 42.1 billion) in investments in 2018; while Canada is the 14th largest investor in Brazil, with Cd$ 14.1 billion (approximately R$40.1 billion) in investments in the same period.
And Canada is set on making this relationship even stronger. That is why we have a large team of trade commissioners throughout our six diplomatic and trade offices in Brazil to assist Canadian companies find business opportunities here with Brazilian partners. This includes key sectors such as information and communication technologies, clean technologies, energy and extractive sectors, aerospace and defense, health and life sciences, as well as education.
A major aspect to point out is that Canada does not trade internationally only for the sake of economic growth. We are advancing an inclusive approach to trade that seeks to ensure that the benefits and opportunities that flow from trade are more widely shared, including with underrepresented groups such as women, small and mediumsized enterprises (SMEs) and Indigenous peoples.
FV – What can be said about the representativeness of tourism for both nations?
SL – There has been a record number of Brazilians going to Canada in the last few years for tourism, education and business. Last year, 200,000 Brazilians visited Canada, which is a 30% growth over 2017 and an over 70% increase over 2016. And we hope to see this number grow event more. A good portion of these visitors are students that are going to Canada for short-term language courses, high school exchange programs and undergraduate and graduate studies.
In fact, for the 14th consecutive year, Canada is the preferred destination of study for Brazilian students! Last year alone nearly 55,000 Brazilians were enrolled in one of Canada's educational institutions. We also hope to see a higher number of Canadians visiting Brazil now that the Brazilian government has lifted the visa requirement for Canadian visitors.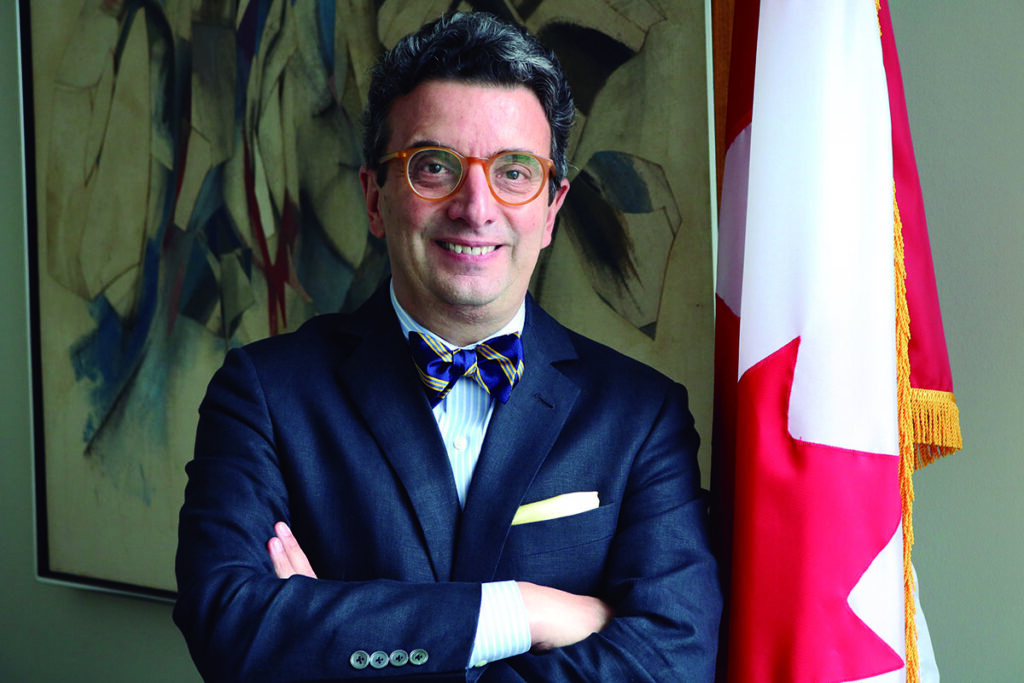 FV – In your diplomatic experience, what can you tell us about facts that marked your path?
SL – I have spent a good part of my career working on refugee and migration issues. This experience has been instrumental in my personal and professional development. At the personal level, it allowed me to meet incredible individuals who were either dedicated in helping people in desperate situations or refugees themselves, who were willing to risk everything to provide their family with a better future.
What I quickly learned is that the great majority of these people are victims of circumstances outside of their control and will show great resilience in conditions that very few, in the comfort of their homes, are aware of. Along with climate change, the large migratory movement toward Europe and, to a much smaller extent the United States, is a great challenge that the world community is facing.
You just have to look at the impact that migration had on the recent Brexit referendum and the recent elections in a number of European countries to see how the challenge has impacted the political map in the world. Furthermore, the climate crisis directly felt in certain parts of the world, is compounding the problem. I do believe that this global challenge merits a global response, and, while far from perfect, the Global Compact for Migration is a good starting point to address the issue.
Ultimately, I believe that the solution resides in improving the economic circumstances, along with the human rights situation, in the source countries. I am particularly proud to have represented a country that has focused its diplomatic efforts around the world on these themes.
FV – Canada is a very articulate country for environmental issues. How is the country investing in preservation in its territory? Are there Canadian investments directed to Brazil in this sector?
SL – Indeed, the Government of Canada is very engaged in environmental issues and is fostering new business models to help reduce climate change, encourage partnerships between cities and the private sector to accelerate investment in green infrastructure, and encourage people to embrace sustainable production and consumption.
An example of this is Canada's commitment to ban the use of disposable plastic by 2021 as announced by the Government of Canada in June 2019. In addition, Canada is innovative country, and Canadian companies are major developers of clean technologies and climate change solutions and are ready to meet global demands. And they do this with partners around the world, including Brazil.
As an example, six of these companies came to São Paulo last June for the Carbon Zero Connection event to talk about these topics, share good practices, discover new technologies and meet potential Brazilian partners who also want to improve the situation of our planet for future generations. Last year, Canada also supported a project by the Brazilian NGO Ecosurf to address plastic pollution in Brazil's coastal areas.
This included a number of local initiatives such as environmental education workshops, a beach clean-up exercise in the Barra do Una community and a national awareness-raising campaign on the impact of plastic in the oceans.
FV – I would like you to tell us more about the Canadian health care system.
SL – Canada's health system is universal and government funded through public resources. In general terms, it means that the necessary medical services are provided to the population based on need rather than financial capacity. This is a great advantage, as Canadian families are not worried, for example, about financial burden if a child or relative becomes ill and does not have private health insurance. I believe that the basic values of fairness and equity, which are demonstrated by the willingness of Canadian society to share resources and accountability, are reflected in Canada's health care system.
It is important to note that the system, while public, is quite dynamic and is in constant modification in response to changes within medicine and throughout society. The system is controlled and supervised and we have a specialized agency that checks the performance, quality and safety of hospitals in the country, but also around the world. This agency is present in Brazil and I already had the opportunity to participate in accreditation events of several Brazilian hospitals, both public and private.
FV – About Canadian cinema, what are the contributions and activities that this sector develops?
SL – Firstly, it is important to note that since 2017, Canada has a new vision and approach to the creative industries that guides public policies on culture and creative industries focusing on the growth of this sector. The film industry is a very important sector of this new approach. To give you an idea, Canada's total film and TV production budget hit a record last year reaching nearly Cd$ 9 billion (approximately R$ 27 billion), with most of this revenue coming from outside of the country. This demonstrates how Canada has established itself as one of the central hubs of film production in the world. In addition, Canada is a strong co-production partner of many countries in the world, including Brazil. Through
the audiovisual co-production agreement between our countries, it is possible to access Canadian and Brazilian funding mechanisms. The Canada Media Fund (CMF), for example, is an agency created to promote, develop and fund the production of Canadian content for all digital and audiovisual media platforms. And for two consecutive years, co-development agreements were signed between the CMF and SPcine, where more than 14 Brazilian and Canadian companies were able to access funds for projects that focused on interactive platforms, including digital media. I am sure we have many opportunities to further expand our cooperation in the audiovisual field.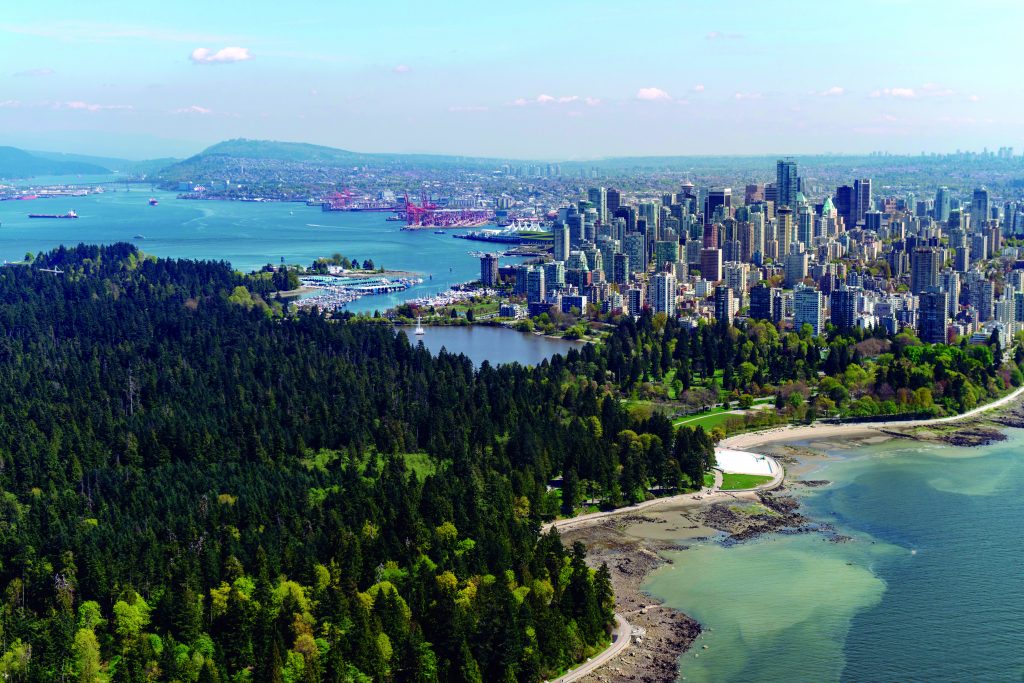 FV – What are the Canadian perspectives on the future of relations with Brazil?
SL – I am extremely proud of what we have achieved with our Brazilian partners over the years. Brazil and Canada continue to build a future together through our longstanding friendship. I am very optimistic and also excited about the opportunities that the future will bring. In the six years that I have been in Sao Paulo as Consul General, I have seen great strides in the number of connections between our peoples in the areas of business, education, tourism and culture.
In regards to business, we hope to have a new free trade agreement between Canada and Mercosur that will certainly favor bilateral trade and business opportunities in both countries. In education and tourism, we are seeing a record number of Brazilians studying and visiting Canada. And they are making friends and creating long-lasting bridges between both our countries. I am sure that these interpersonal ties – the contact between our peoples, between Canadians and Brazilians – will be the key to strengthening our friendship with Brazil and will make our relationship flourish.