Known for his commitment to building better cities and the natural ability to identify emerging markets, the founder and president of Related Group has led the complex urban evolution of South Florida, USA, for more than 40 years. With an industry-leading team, and surrounded by high-profile partners, he has built more than 100.000 ventures and has become one of the most influential names in the global real estate market. Born in Buenos Aires, Argentina, son of Cuban parents, Pérez grew up in Bogotá, Colombia. He graduated from C.W. Post College, Long Island, USA, and earned a master's degree in Urban Planning from the University of Michigan. In the 1970s, he made a name for himself in the public real estate market operating in lowincome Miami neighborhoods, including Little Havana and Homestead. Attention to detail and commitment to the creation of environments that favored quality of life distinguished him in the sector and laid the foundations for future projects. More than four decades later, he remains a visionary, constantly paving the way for unknown neighborhoods and setting the tone for the real estate industry to evolve and innovate.
Considered one of the world's leading collectors of contemporary art, Pérez applies in his designs quality works of art similar to museums that complement the unique character of each building. By mixing, among several other items, art and real estate, it offers the general public, artists and curators access to a variety of exhibitions, contributing to culture and education. As a philanthropist, his foundations are dedicated to empowering and supporting organizations and offer positive impacts in the areas of economic development, education, health and well-being, environment, art, and culture.
In Brazil, his first major project, the Global Park, is in São Paulo. A meganeighborhood that promises to revolutionize the urban concept of the capital. In this exclusive interview with The Winners Brazil, we talk about the project and its worldview from the perspective of the great urban planner that he is. Check Out!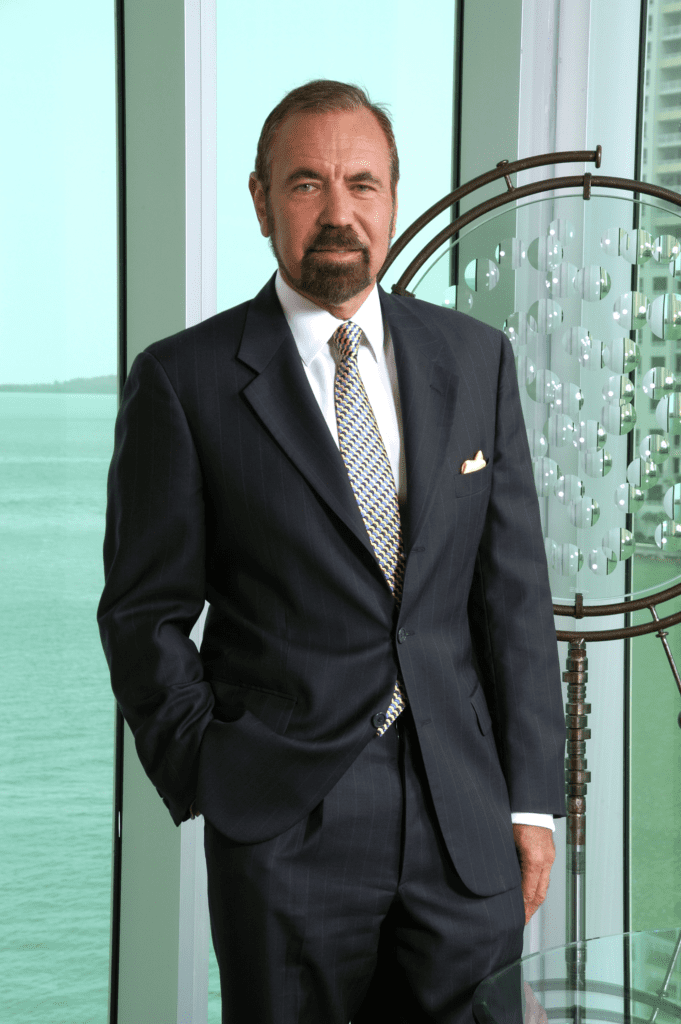 The Winners – Today everyone knows your brand and the strength of your endeavors, but where was it born and how did your career in construction begin?
Jorge Pérez – If in high school, or even at the university, I told people that I would be a construction entrepreneur, they would laugh. There was no business interest in me. I started studying philosophy, economics and urban design. I saw people and all I could think about was how to improve their lives, the places they live. I have several postgraduate courses, and for me the economy should serve to improve society and its well-being. I started to unite design to
create better neighborhoods, better cities, for the less fortunate. When I finished college, I went to work in the city of Miami as an urbanplanner in neighborhoods with a low-income population and the goal was to make good places for those people to live. When I made this movement I started to know more about the city, and its master plans, following the actions of the mayors, and I realized that it was necessary to have an interaction between the public and private sector to accomplish something. I started writing housing programs for the city and suddenly a group of people realized I was good at it – turning ideas of good housing into a reality accessible to society.
I started with two very small projects that I still have in very poor neighborhoods of Miami: one of black origin and another of Hispanic origin. This work was highlighted because we totally revitalized all buildings and created spaces for the elderly who have no income or very little income. So, I started my career developing these housing projects for local government, never focusing on profit, but on promoting good housing environments for people, and so I found out that
I liked to do that. Create buildings for people to live well. The first five years of my career were a very intense period of achievement. I was 26 years old and working 24 hours a day! Literally, it was 22 hours of work and 2 hours of sleep, seven days a week. I wanted to turn the city into a better place. But there was an issue in this process: government housing should be accessible in all aspects, so we couldn't work with great architects and their projects, that would have an unfeasible cost. And the residences turned out to be rectangular buildings with little architectural quality. It made me put more trees in the projects. So, I thought, "There's never going to be a building as beautiful as a tree." I made three- or four-floor buildings and planted trees everywhere. Today, they are the same buildings that we built 45 years ago and are covered with landscaping, which is always beautiful to see and live. From there I realized that it was important to be more creative, to work with great projects and architects, which would only be possible by building larger houses and projects, inserting the best of designers and landscape architects. I became a builder of condominiums, offices, villas,
and mixed-use offices. It all started with the purpose of being socially conscious, and we became America's largest
private developer. Today we have 100 projects under construction and 13 billion dollars invested in these projects. Although the company has grown with large and luxurious developments, a third of the company still makes affordable housing. We never forget our obligation to build housing for the underprivileged. And we build the best affordable houses in the world. We are very good at this business because building houses reflects who we are. So, if you are building something like it's for you, it will be good for others. It is the law of attraction: attracting good things to yourself.
TW – The hallmark of your real estate developments is the revitalization of neighborhoods, the construction of new urban habitats. What are the impacts of these projects on local development? What is the vision of business and society that is allied to these projects?
JP – I consider that the most important thing for a person is not only the house, but the whole surroundings of the house. The building has its value, but what is around that building makes a difference. The neighborhood is what makes that building and that community be successful. If you make a good building, but everything around is in decline, there was no contribution to the person who will live in the region. The problem we had with urban development in the past is that beautiful buildings were built for the underprivileged, but everything around it was still bad. What we like to do is to take a more holistic approach. When we do projects in the U.S., not only we are going to build these buildings, but we are working with the cities and the surrounding area of that project, trying to buy everything around them. Consequently, we change the region, and the chance of success of the project, of shifting people's lives, is greater. We are builders of a community, so we create lifestyle, and this is extremely important for everything we do.
TW – In the book Powerhouse Principles: The Ultimate Blueprint for Real Estate Success in an Ever-Changing Market, you say that some of the lessons learned in times of crisis were flexibility and diversification of projects. How does this work in prospecting and defining new businesses?
JP – Everything we do needs to be coordinated. Our specialty has become the construction of communities, entire neighborhoods, not just buildings. And when cities need, for example, an urban change in a given region they call us, and we develop a master plan. Cities and their leaders trust that we will develop complete environments. From there, we included in the project important actions for education and local job creation. In Miami we have an intense work, with
revitalization of spaces accessible to the less favored, and so we replicate this work in Tampa, Florida, and create a training center for people in that region. We train new plumbers, electricians and other professions. We are not only creating the physical environment but providing the skills for people in that region to work. Our projects are a partnership between cities and the private sector. And that is the only way I see so that projects can be created. We have been very successful in this task of working together. The success of the Global Park in São Paulo is an example of this; in addition to the five residential towers, we think about the surroundings, putting in the project a shopping center, a business unit with offices, hospital, and infrastructure; it will be a complete neighborhood, supplying the need of all.
This work is done with local public authorities so that we can build access to the new neighborhood through the subway and train lines, connecting this place with the rest of São Paulo. We understand that it is important that public transport is accessible and of quality in these neighborhoods, so we avoid the use of cars. In this specific project, we also invested in cleaning the Pinheiros River, so that people can use the bike path and have an adequate leisure area. We will invest in the bike path and on running and walking tracks, this is to be part of the community and promote its development.
I also learned that investing in works of art is another step in promoting education, so our projects, including this one, have great works of art available to everyone, not just the residents of the residential complex. After more than a hundred units built and 45 years of profession, we already know what to do, we become specialists.
TW – You have already stated that you know precisely markets around the world and ensure that Brazil has been proving to be one of the best options for investment in real estate. Could you describe some points of your management experience that demonstrate this?
JP – When you go around the world developing ventures, the first thing you need to know is that you are not the only expert in the industry, there are excellent professionals in the world. Thus the biggest lesson we learn is that we need to become partners with people who are experts in their countries. The first thing we do in a new country or locality, before
even looking for available land, is to meet the specialists in the business there. That is how we did it in places like India, London, Mexico, Colombia, Brazil, and Argentina, we met people and we look for a great partner. That is the number one priority in any business.
When I met Adalberto Bueno Netto and started planning the Global Park venture, it was a dream in urbanism: a place where people could breathe, where families could look outside their apartment and find a beautifully constructed landscaping, spaces where they could enjoy a barbecue, practice tennis, swim, bowling, anyway, do all these activities that were impossible in any standard residential complex. For those who buy a property in the plant, having this differential is important, knowing what you are buying and from whom, because you will buy now and receive the property two to three years ahead. You must have confidence in the project and the development team, and this can only be done if we have strong local partners
Check out the full article here!