Daniel Maranhão, CEO of Grant Thornton Brazil, has more than 30 years of experience in the audit and consulting market. He holds a bachelor's degree in Accounting and Administration, as well as an MBA and specialization courses from the following universities: São Paulo, California, Oxford and Harvard. Heading Grant Thornton Brazil since 2014, he was responsible for leading the company's biggest growth among the 140 countries where it operates, for two
consecutive years. A professional focused on his actions, who reaffirms his commitment to work consistently in projects related to diversity, inclusion, entrepreneurship and volunteering. He also defends management based on greater digitization and the use of innovative technologies in all administrative, public and private sector, supporting advances
in municipalities, states and the whole country. His leadership is directly associated not only with the services of the global auditing and consulting company, but also with his commitment to helping organizations to evolve in their maturity in Governance and Sustainability and to contribute to the achievement of global goals of sustainable development. In this spirit of mutual construction and towards the development of society, he gave an exclusive interview to The Winners magazine, check it out!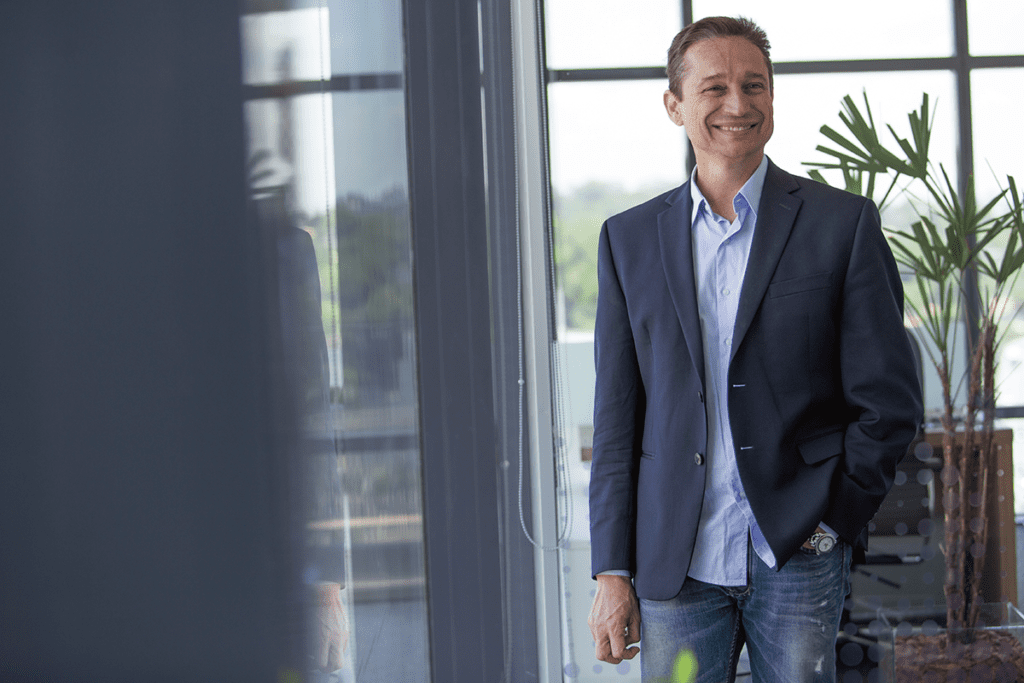 The Winners – A survey carried out by Grant Thornton, shows that the average of optimistic entrepreneurs registered in 2021 was 64%, the highest since 2012. However, Brazil fell to the 10th position in the ranking of global optimism of entrepreneurs. In practical terms, what is the impact of this result for the growth of the economy in 2022?
Daniel Maranhão – This fall of Brazil in the global ranking occurred because there was an increase in the positive expectations of the entrepreneurs in other countries as well. In some of them, these expectations were slightly higher
than the Brazilian ones. This shows that the entrepreneurs are committed to the recovery of the economy in the next 12 months, in what we believe to be the post-pandemic, thanks to the advance of the vaccination against covid-19 around the world. In Brazil, despite the high inflation and the trend of rising interest rates, the entrepreneurs foresee the continuity in the growth of their businesses. We ended 2021 with a downward revision of the GDP, but optimism remained because many companies in various sectors managed to recover from the most acute losses of the pandemic. There is also an expectation of greater investment by the government in infrastructure, which is common in an election year, in addition to investments by the private sector itself, due to concessions in important sectors, such as basic sanitation and energy. From the consumption point of view, Auxílio Brasil [Brazil Aid] in 2022, above the average of the past, can generate a result similar to that of 2020, which boosted consumption by families, especially the low-income ones.
TW – Although the survey carried out in 29 countries where Grant Thornton operates by International Business Report (IBR) found that Brazilian businessmen have increasingly cared about ESG (environmental, social and governance) practices, there is a lot of criticism between intention and reality. As a defender of the topic, how do you see the issue?
DM – We conducted a survey at the end of 2021, in partnership with XP Inc. and Dom Cabral Foundation, in which 75% of participants consider ESG as a priority and 86% agree that the organization could suffer a negative impact in the future if it does not adopt these practices . Despite the lack of clarity about which practices are a priority for each business and how to integrate ESG aspects into the organizations' strategy, there is no way out. In this sense, CVM's Resolution No. 59, with criteria for ESG disclosure as of 2023, gives important signals about what the market expects from companies. In addition, financial institutions observe the strong growth of corporate debt securities of ESG
companies, with record green bond issuances in 2021. Faced with the demand for these bonds, banks began to pressure companies to become ESG. Therefore, the risks of not adopting these practices are great, which can harm the brand and, consequently, the loss of investor interest in the company.
TW – You are known for defending responsible management and good practices. Do you believe that the world events of recent years have highlighted the need to maintain life on the planet allied to consumption and more responsible attitudes? How is it possible to unite these points?
DM – Certainly, the pandemic and natural disasters in recent years are forcing organizations, governments and society as a whole to pay attention to aspects that were not considered important and relevant a few years ago. To manage today is to consciously build tomorrow, and when we start from solid governance, we create the basis that will guarantee this support. The agreed global guidelines, such as the Sustainable Development Goals for the UN 2030 Agenda, the Paris Agreement, among others, present us with a relevant model to guide the paths we need to follow. Therefore, the collaboration between the public and private sectors is extremely important to enable working together on essential points of management, with credibility, transparency, risk and cost management, purposes and projects, automation and digitalization. The maintenance of life on the planet and the conscious consumption permeate this entire process of responsible management, committed to goals and that involves everyone in a network of reliability, in which the projection of the future is structured with innovative solutions that can be implemented on a large scale, for a management of changes that is consolidated in the long term.
TW – At a time of discussion on global sustainability, data indicate that for 56.4% of Brazilian businessmen, financial success and sustainability are equally important for business, and topics such as greenhouse gas emissions and social issues are considered in the company's reputation management. But in fact, how do these actions or lack of them, impact the company's management?
DM – ESG aspects can significantly impact a company's business model and value creation. How much can it cost a mining company, for example, the consequences of a dam failure? What is the impact on the company's reputation accused of maintaining work analogous to slavery? And the credibility of an institution convicted of financial fraud?
Including the main sustainability issues in the organization's strategy is essential for risk and crisis management.
Financial institutions and Private Equities play a very important role in the adoption of ESG practices by companies, through ESG Compliance for the release of resources and investments. We cannot forget the country's potential to develop strong actions and benefit from the carbon credit market, estimated at US$ 1 trillion in the coming decades. Brazil alone can generate up to US$ 100 billion by 2030, in addition to attracting investment and promoting the
development of production chains.
TW – Much is said about "climate finance", but in practice how does it work and what are the benefits for companies?
DM – Climate finance was one of the central themes of COP26, as it will be essential to support new technologies and infrastructure necessary for the transition to Net Zero, such as access to low carbon energy, as well as enabling innovation to achieve climate control goals Paris Agreement climate change. Other agreements are under discussion to
develop an agenda on the country's climate, carbon market and biodiversity, including tools to assess risks based on ESG practices. The guidelines of this movement will help companies understand what they need to do to gain access to capital. However, if we want to reach Net Zero, it is important that political decisions include mediumsized companies at the center of the discussion and access to financing, as they are responsible for a large part of the country's GDP generation and for regional socioeconomic development, but, in general, are a step behind in the ESG structuring, due to the costs involved.
TW – In the last few months we have had many polemics about cryptocurrencies. But what are the myths and truths about the subject? What can we expect from this market?
DM – Despite the long discussions about security, volatility and lack of regulation, cryptocurrencies are already an unquestionable reality, with increasing movement in the face of advances in the digital environment and globalized
world. And this is not a recent movement, since several countries in Europe and the United States are already considerably more advanced in relation to the regulation and legislation of the cryptocurrencies, in addition to countries that accept digital currencies in their transactions. In Brazil, the lack of specific regulation of virtual currencies regarding their operationalization still raises many doubts. However, there are bills in the Senate and the Chamber of Deputies to regulate digital currency transactions in the Brazilian market. This is essential as it will create a safer
environment for investors as well as a source of revenue for the government. The fact is that every day more people and companies are attracted to this market: either to have another form of payment, or to have a new way of allocating resources in search of valuation and profit.
TW – A positive reflection of the covid-19 pandemic was the increase in the global demand for technology, which expanded the sector's revenue and promoted innovation and new investments. We know that this is a path of no return. How do you see the sector's prospects?
DM – The Information Technology area has gained extreme relevance throughout the covid-19 pandemic. In a short period of time, it was elevated from a supporting player to one of the main roles. The adoption of remote work in several sectors, even in those less technological; online shopping, digital health and virtual learning required technological solutions unimaginable in the pre-pandemic scenario. The customer behavior changed almost overnight and each industry had to adjust quickly. As a result, we advanced in just over a year what might have taken five or more years. In parallel with these progresses, new challenges have also arisen, such as containing the increasing escalation of cyber-attacks (production stoppages, fraud, theft, or data leakage), which can cause great damage to companies. We cannot also forget about the General Data Protection Law (LGPD), whose noncompliance is subject to fines for the companies. Therefore, the perspective is that this area will continue to grow, with more investments, mainly in information security, to keep up with the demands and transformations of the market.
TW – During your public life, you received several honors, and recently, you were honored in the 2021 Personality of the Year award in the Compliance and Corporate Governance category. How do you transform this recognition into a legacy for the sector and future generations?
DM – I believe that this recognition is the result of the transparency and ethics that have guided and continue to guide my professional and personal life. Transparency is the best basis for any type of relationship, which enables better
corporate governance, business credibility and trust in interpersonal relationships. As CEO of Grant Thornton Brasil for over seven years, which employs more than 1,400 people in the country, I always seek to convey this conduct clearly to all employees, so that our professional attitudes based on these principles are translated into actions with the clients,
providing better corporate governance. I am convinced that the best legacy I can leave to future generations is this collaboration in the formation of ethical people, aware of their role as citizens and professionals, capable of multiplying this conduct of transparency with other young people, their families and their children, in a cyclical process. This is directly related to and positively influences the continued and sustainable growth of partner companies and clients, and consequently strengthens Grant Thornton's reputation around the world.