At the beginning of the crisis of the new coronavirus, the French giant in hotel operations innovated and created new solutions to face the crisis and become a reference in this market
At the beginning of the new coronavirus pandemic, where social isolation decrees were announced across the country and 80% of Accor hotels closed in Brazil, the company opted for the path of innovation and developed new products and solutions to confront an atypical reality of that scenery. It was in this quest for innovation that the Room Office product emerged, a pioneering proposal by Accor in the sector that transformed hotel rooms into offices for one or two people. Ideal solution for those who needed at that moment a place close to home to work, but with comfort, tranquility, fast internet and, above all, security.
Rooms became offices
In May 2020, Accor announced the launch of the Room-Office product. It was the solution for that moment of social isolation, where many people were looking for tranquility and infrastructure to work. Having a safe place, close to home, comfortable at an affordable price was the solution for many professionals from different areas. Even more so in a clean environment, following the highest and strictest standards of hygiene and cleanliness. The idea began, at first, in 23 hotels, of economy, midscale and premium brands, operated by the company in Greater São Paulo. After a good acceptance, Accor expanded the service to another 35 addresses in the capital, coast and countryside of São Paulo and other regions of Brazil. To start the project, Accor carried out one survey with more than 530 clients in the city of São Paulo and the metropolitan region. When asked if they preferred to work outside of their home, 67.33% of respondents answered yes. And 47.16% said that the reason for leaving home to work would be to have an adequate office structure. When asked if they would consider using an adapted hotel room to become their private office, 87.22% said yes. For 61.36%, having a high standard of hygiene and sanitation offered by the hotel during the pandemic is the most important differential. Others (56.25%) ranked high-speed wifi as the most important item. In other words, the idea was on the right path.
The room office by WOJO
In January 2021, Accor announced the launch of its global coworking brand in Brazil. Named WOJO (it reads uodjô) and with the concept of "coworking with hotel experience", the new brand arrived with a proposal of "workspitality" (work + hospitality), that is, delivering work solutions through products that do not give up hospitality anymore known from Accor hotels. From that moment on, the Room Office product started to be operated under the WOJO brand, becoming the ROOM OFFICE BY WOJO. In other words, the pioneering proposal, created by Accor, which transforms hotel rooms into private office spaces for one or two people, is here to stay Accor currently has the ROOM OFFICE BY WOJO service in more than 129 hotels throughout Brazil, with offers for daily, weekly or monthly packages. In addition to Room-Office, the WOJO brand also started its operation in Brazil with two other products. WOJO SPOT (working spaces available to consumers in common areas of hotels such as the lobby, bars and restaurants) and PRIVATE ROOMS BY WOJO (meeting rooms adapted to become private offices for three people or more and intended for companies or members of the same team or project).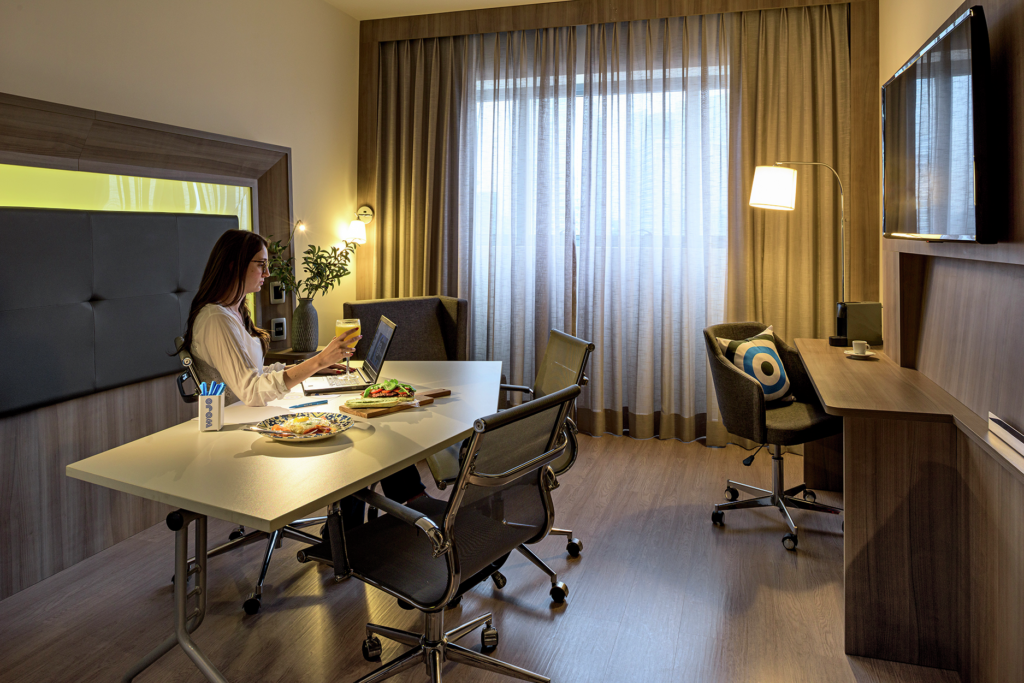 Innovation is here to stay
It is normal for someone to think that demand for these products will disappear after the pandemic. On the contrary, this crisis gave strength to a movement of professionals who bring a different concept of life, they are digital nomads who are people who do not stay in one place and are always traveling and living in different cities. To maintain this lifestyle, work is also remote. It is a trend that is here to stay, accelerated by the pandemic. A recent study by TRVL Lab (travel market intelligence laboratory), in partnership with Elo, interviewed 1,236 travelers from all regions of Brazil to bring insights from observations of general and specific behavior and consumption trends for tourism with the pandemic. This survey showed that more than 70% of Brazilians like the opportunity to discover new places to work, and with remote work, this has become even more possible.